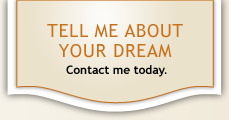 There is no imitation for the hands of building experience.
I will show you photos, do mock-ups, and take you to similar spaces. Once I get the same image in my head for your custom home that you have in yours, I can expand on it, consider things you didn't, and make suggestions on how to make your home even better.
I typically work on a limited number of building projects at once to keep my focus. You talk directly with me, Dennis Reiter, and I oversee everything. I will be on-site everyday and will connect with you several times a week to ensure there are no hassles or surprises.
Contact me today about your
building your WI custom home.